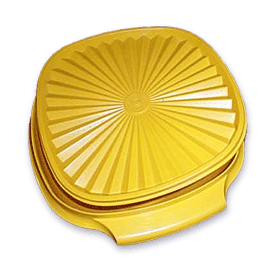 Found in dusty kitchen cupboards and dishwasher top-shelves across this wide, great land, really, really old Tupperware is as handy today as it was twenty, thirty, forty years ago. That famous Tupperware "burping seal" still holds strong, and you can bet your boombox that banana bread will stay moist, those chopped celery sticks crisp, that leftover lasagna slice fresh. Yes, all is well in this tight vacuum-sealed Chamber of Taste-Preservation.
Really, really old Tupperware is mostly found in three colors: Stovetop Green, Pylon Orange, or The Core Of The Sun Yellow (pictured). Optional features include novelty 1950s floral patterns or deep tomato stains, from that time someone put leftover chili in there and shoved it in the back of the freezer for two years.
One thing I enjoy doing is thinking about all the different kinds of food a particular piece of Tupperware has tupperwared shut over the years. Apparently Tupperware has been around since 1946, so we're talking about the full tastebud timeline — from lard burgers, creamed corn casseroles, and Jello salads to hemp brownies, parsley soup, and tofu cookies to pizza pockets, Hungry Man leftovers, and astronaut ice-cream pellets.
Really, really old Tupperware has been there, sealed that, and lived to tell the tale. It's a throwback to the simpler life, when things like airtight seals meant something. Something real. Something honest.
Something worth believing in.
AWESOME!