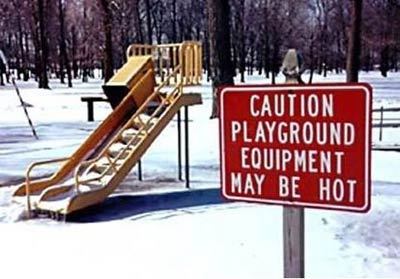 Slides used to be dangerous.
After climbing up those sandy, metal crosstrax steps you got to the top and stared down at that steep ride below. The slide was burning hot to the touch, a stovetop set to high all day under the summer sun, just waiting to greet the underside of your legs with first-degree burns as you enjoyed the ride. It also smelled like hot pee, years of nervous children with leaky diapers permanently marking it as their territory. Lastly, to top it all off, there were no cute plastic siderails or encapsulated tube-slides, which meant that if you went too fast or aimed your legs poorly, your shoes would grip-skid on the metal, and you'd spill over the side, landing face down with a sickening thud in a bed of pebbles, cigarette butts, and milk thistles.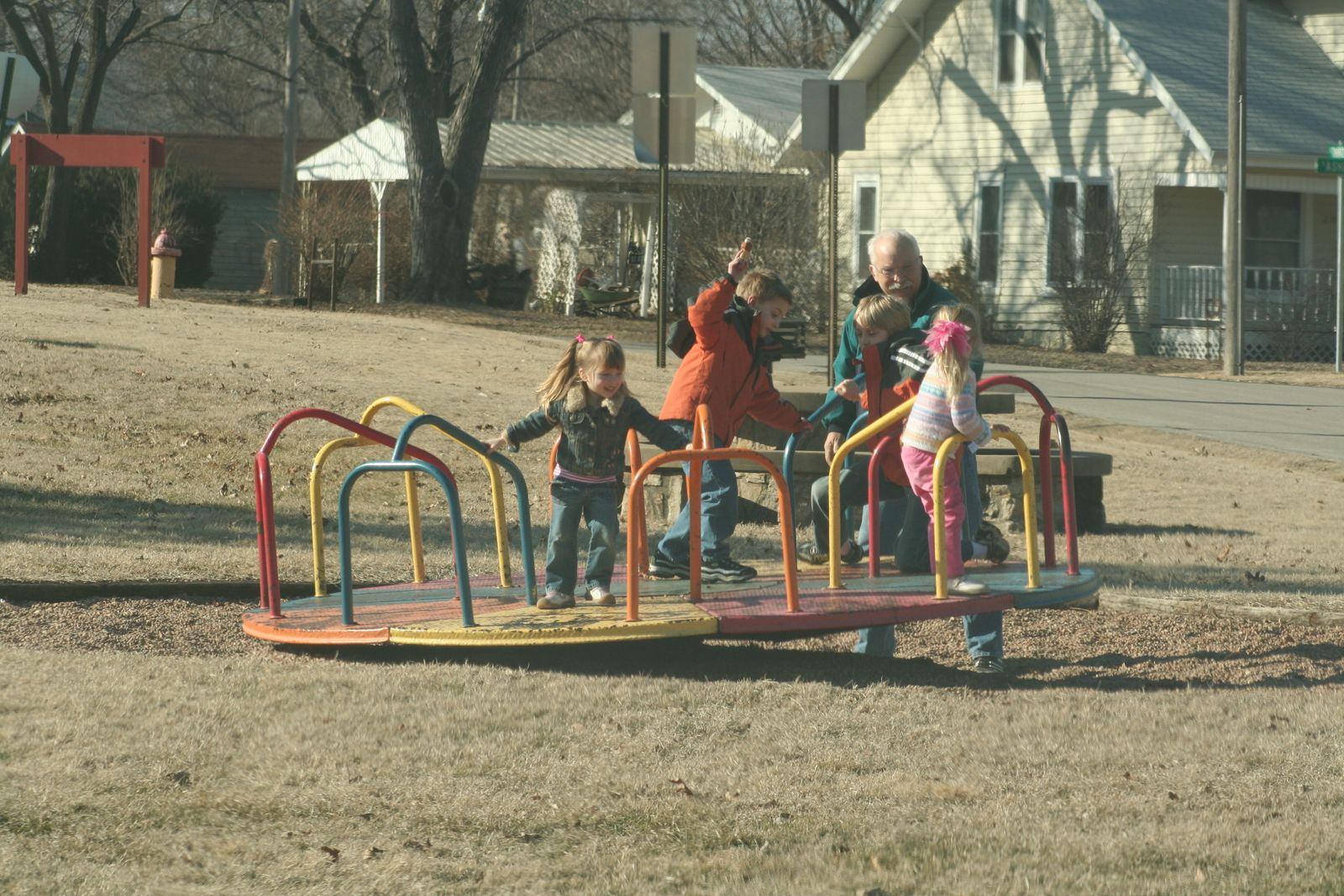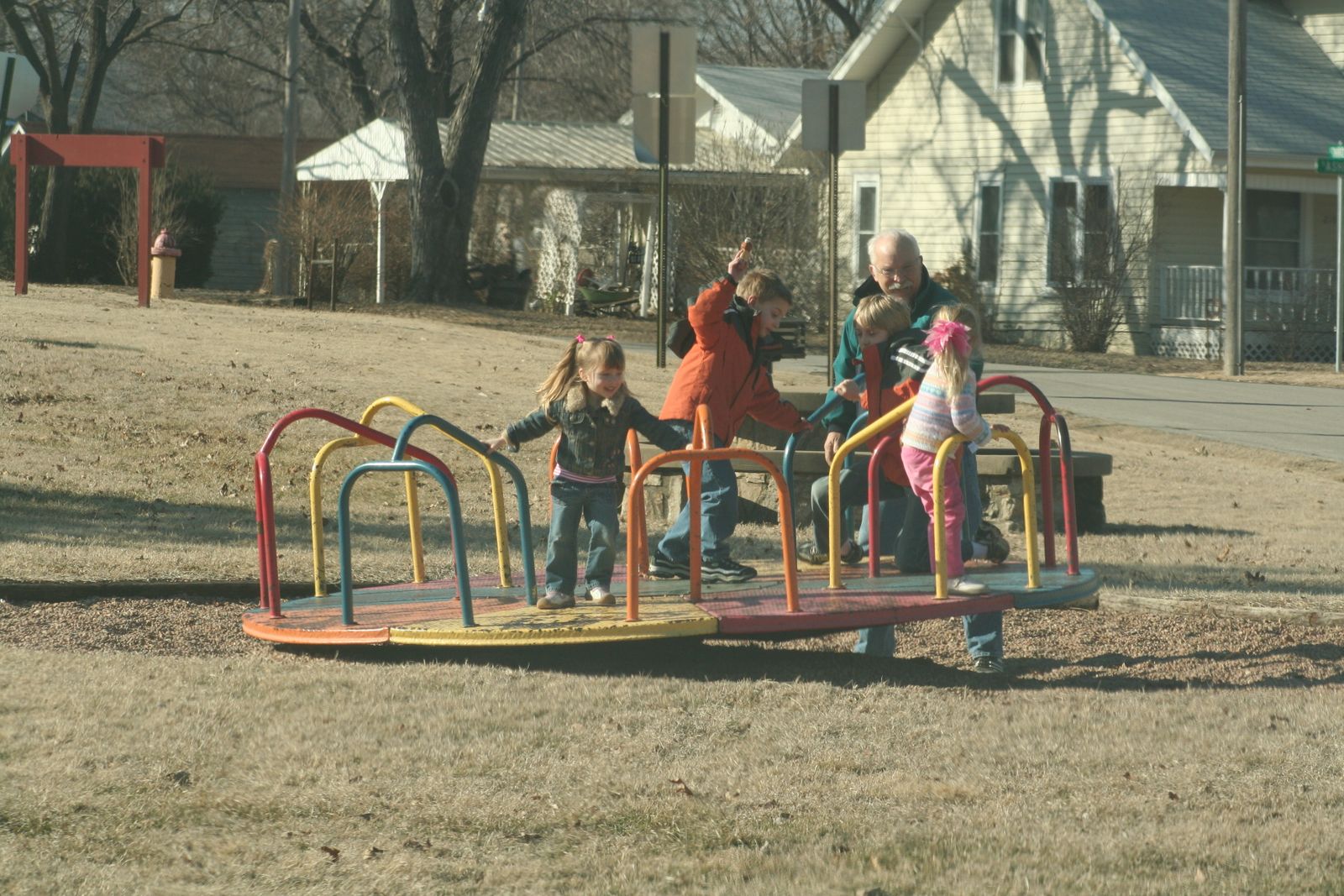 It wasn't just slides, either. Everything in the playground was more dangerous. And they were different and unique, seemingly put together by the neighborhood handymen who in a burst of creative energy one Saturday morning emptied their garages of old tires, 2x4s, and chains and just nailed it all together.
There were wooden tightrope beams suspended high in the air, daring the confident, athletic kids to attempt a slow, heart-pounding highwire walk while other kids encouragingly showered them with handfuls of sand and pine cones.
There were fire poles two stories high — just a cheap, simple pole planted deep in the ground. It was popular, and educational too, quietly introducing children to concepts like gravity, friction, and badly sprained ankles. There was a certain Fire Pole Form too, a kind of arms-on, cross-legged-spider-wrap maneuver that was both awkward and majestic at the same time.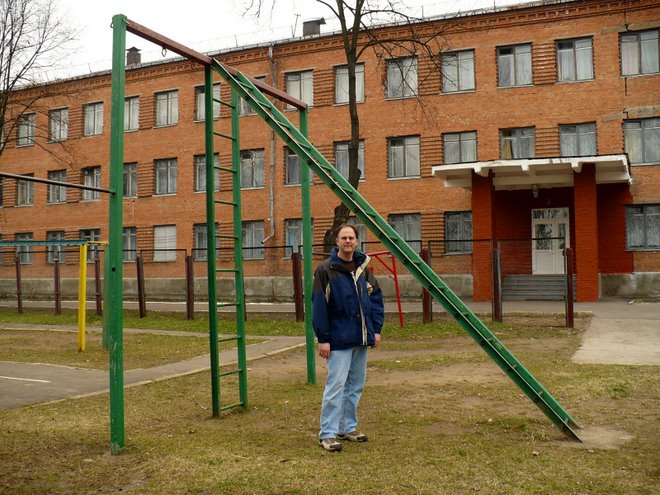 And of course, there was my favorite — the Big Spinner, also known as a Merry-Go-Round, but not the kind with lights and plastic horses going up and down. This was just a giant metal circle that laid about a foot off the ground and could be spun, usually by someone standing beside it. If you were lucky you'd get a pile of kids on there and somebody's mom or dad would kindly whip you into a World of Unimaginable Dizziness. A couple kids would fly off from the G-forces but most would hang on, teeth gritted, eyes squinted, cheeks flapping wildly against the wind, until the Big Spinner reluctantly came to a slow stop and finally let you off. Then you'd all walk away in different directions, some kids hitting tree trunks head on, others falling down nearby hills.
These days those classic playgrounds sure are hard to come by.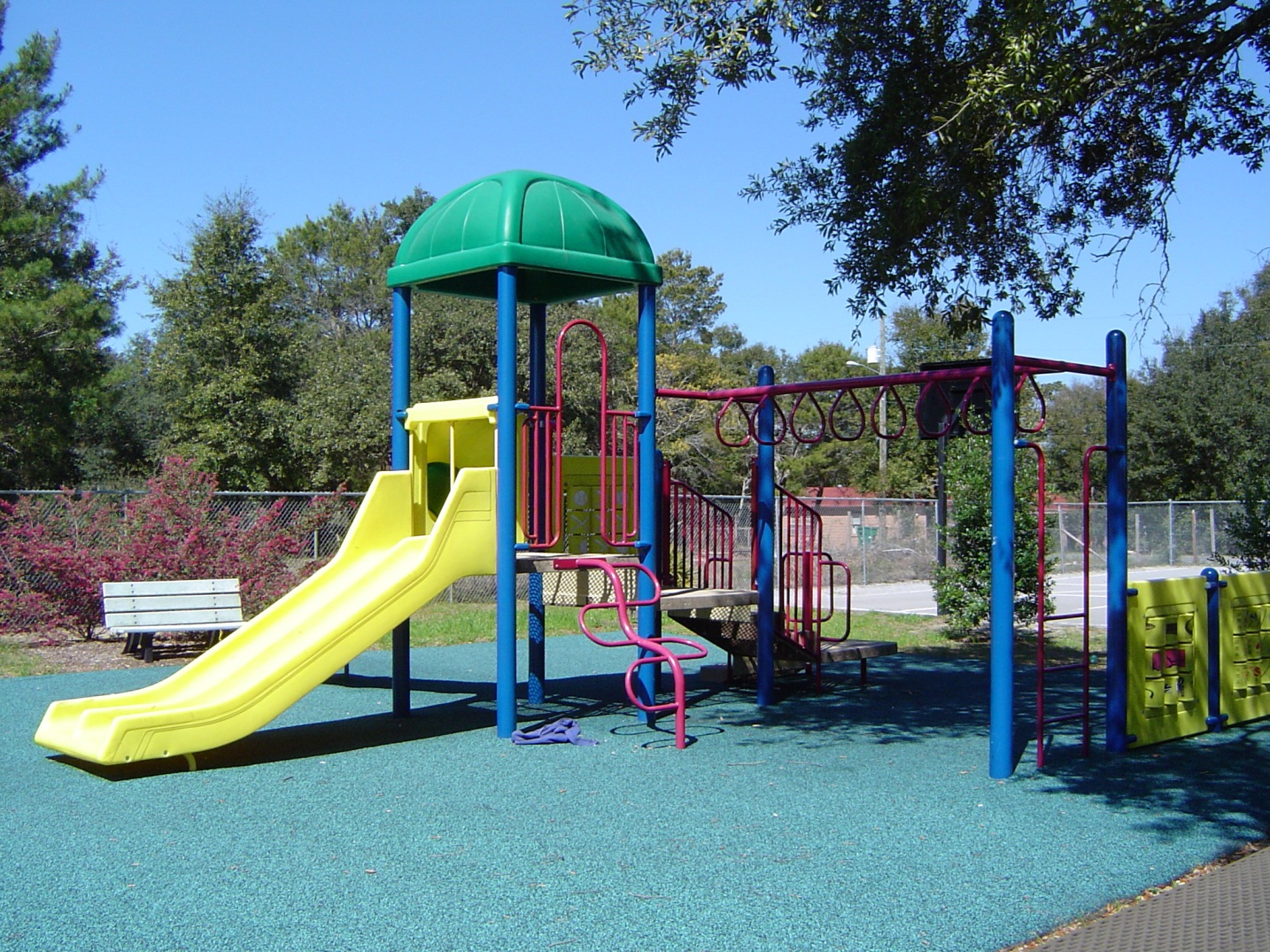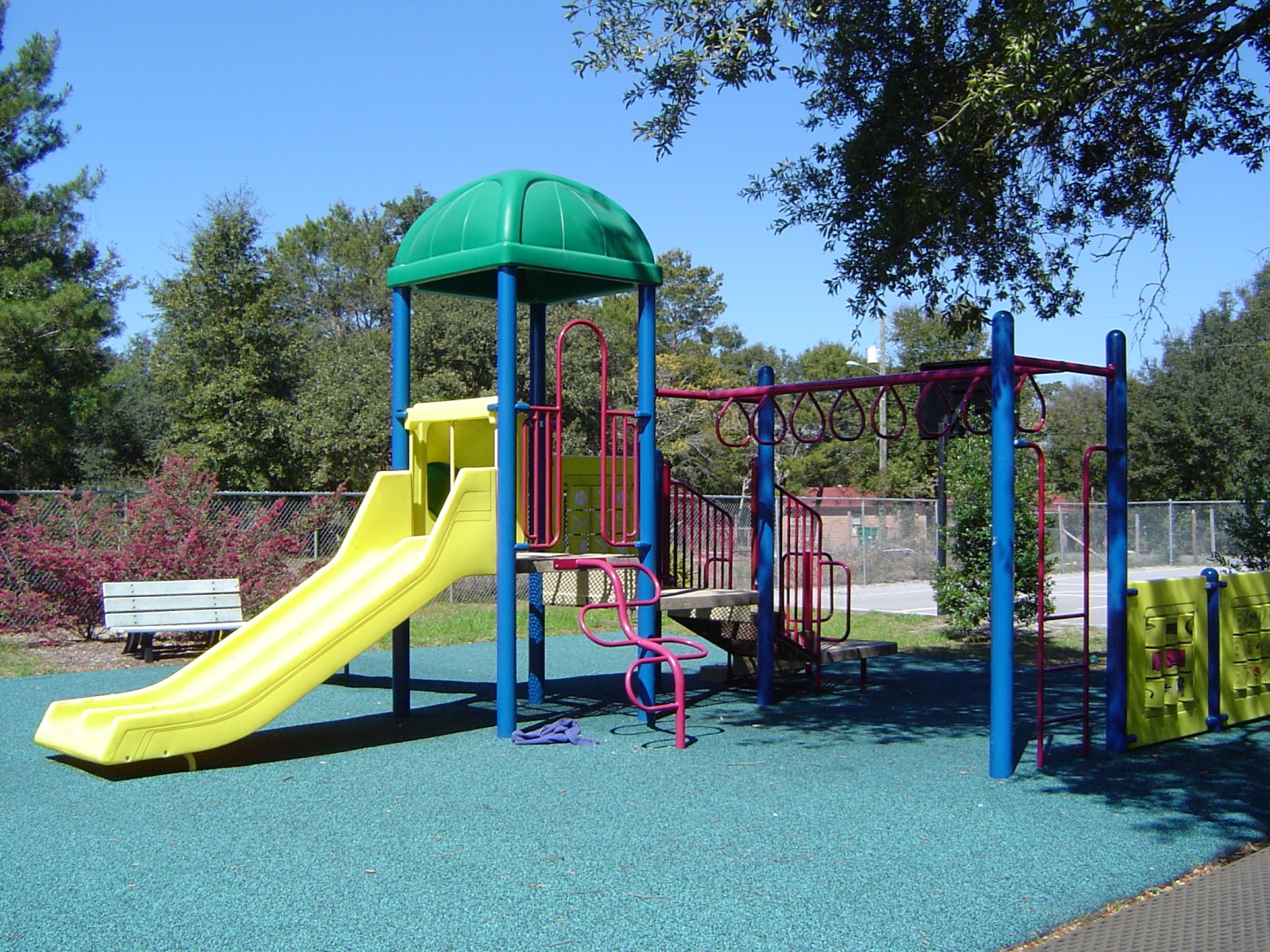 Everything is plastic now — unaffected by temperature, easy to disinfect, and bendable into all kinds of Safe-T-Shapes, the sharp, rusty nail heads of yesterday replaced with non-toxic washable adhesives poured from a cauldron of polymers and Purell. Now not only are our kids getting lame baby-approved fun, but just think what we're doing to the tetanus shot industry.
Seriously though, new playgrounds sure are terrible. This guy agrees. They say that playgrounds have gotten too safe and become so sterile and boring that kids just walk away from them, preferring instead to hang out in the weeds by the railroad tracks or throw bottles in the alley behind the pizza place. Kids could actually be placed in more danger by these lame plastic netherworlds that encourage more video game time instead of fresh air and bruising. Another blow to childhood struck by overprotective parents and pesky lawsuits.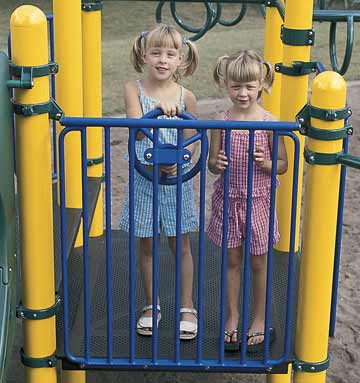 Well, we can't change the world, so let's just enjoy the good news: old, fun, dangerous playgrounds are not completely extinct. Yes, the Safety Conglomerate hasn't killed all the buzz with their rocking horses two inches off the ground, pillowy-soft imitation sand, and stationary, bolted-on steering wheels. Old, dangerous playground equipment can still be found. They're out there.
So please — when you find monkey bars taunting you from ten feet off the ground, extended see-saws that allow for maximum elevation, and rickety, sagging rope bridges with planks missing, please, run around like crazy, bump your head a few times, and twist your ankle. Because tell me something– is there anything quite like it?
AWESOME!
This post is in The Book of Awesome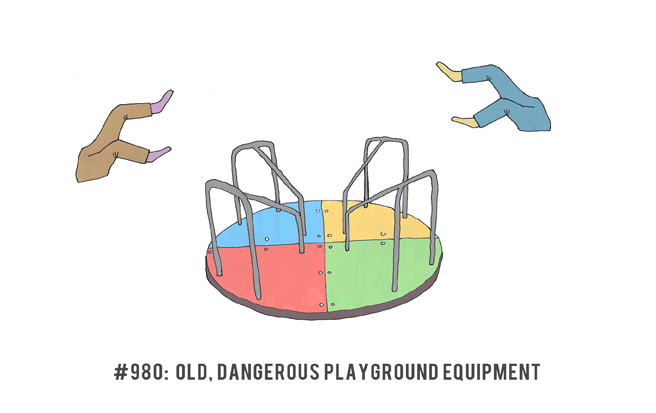 Illustration from: here