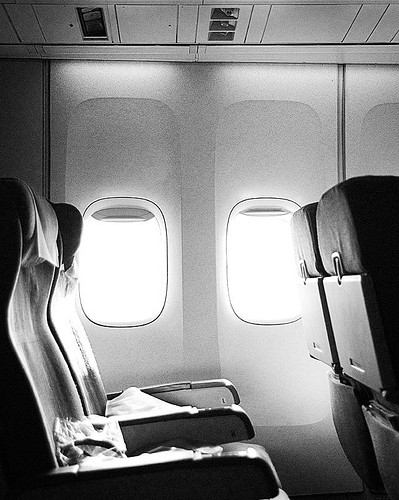 It was like a mirage.
There I was, a few years ago, sitting in the middle seat of a plane set for take off, and there sat an empty aisle seat to my right. I was belted in and cramped and it just sat there vacant, while overhead bins were slamming shut, flight attendents were bringing out blankets, and people started thumbing mindlessly through inflight magazine articles about exotic hotel lobbies.
The plane looked full, the plane looked settled, so I quickly made my stealth, ninja-like swap into the empty seat like a champion. I moved and sat there with a big smile, lots of elbow room, and my legs comfortably extended into the aisle. Truly, it was heaven.
Then suddenly a big guy in a tight business suit lumbered down the aisle just heaving, sweat dripping down his forehead, tongue wagging out his mouth like a dog, eying my row from a distance. I knew the jig was up, so I moved back to the middle seat as he settled in. Turns out he slept through his alarm and had to race to the airport. Nope, no time for a shower, just a full day's worth of grease on his glistening neck. I voluntarily sacrificed the arm rest when his forehead began dripping on me, and then tried to enter a cocoon-like state of flying hibernation, covering myself in a blanket, crossing my arms and legs, and trying to go to sleep.
And that's sort of how most plane rides go for me.
But every so often, every once in a while, I'll end up on a pretty empty plane and score an entire row to myself. And that's when the perks start piling up. You know how it is:
Pee Freely. Yup, get up and go whenever you like, because you won't need to awkwardly limbo past anyone's drink tray. Bonus: No awkward crotch-in-the-face moments.
Window and aisle. It's great looking out the window, but unfortunately the person sitting closest to the window gets all window-shade rights. They may close the window completely or block the view when you want a peek. When you get your own row though, you get both.
Rest your arms. All arms rests become yours for the taking. Left arm, right arm, it doesn't matter. There's no need to worry about getting the bump-off.
Go sideways. This isn't always easy, but you might be able to pull off the 'row nap', where you flip up all the armrests up and turn three seats into a bed. Forget those pricey lay-down seats in first class — this here's the econo-bed and it works just as well.
Yes, having a whole row by yourself on the plane is a pretty sweet deal. You can almost pretend that you're magnificently rich and you paid for the other seats just to buy yourself some breathing room. Because seriously, flying ain't always a lot of fun, and so that extra elbow room can make the difference between three hours of misery and three hours of bliss. And that's something worth celebrating.
AWESOME!