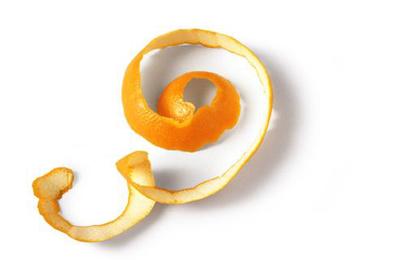 It ain't easy, but when you finally succeed in peeling an orange into only one big, swirly peel, it can be one of the greatest fruit-eating experiences of your life. Here's how to make the magic happen:
1. Pick a winner. No two oranges are created equal so it's important to inspect your fruit before you pick it. Smart money says eye a juicy one that's been ripe for a day or two and has plenty of loose, saggy peel hanging around, just begging for a big thumb-puncture right in the gut. If you have trouble, just remember this handy line: to get that peel off, pick one that's soft. Word to your sister.
2. Roll it out (optional). Some people like to roll their orange around on the counter a bit, just to make doubly sure that the peel is primed and ready to go. This is the equivalent of sending the orange out to the bullpen to warm up. A side benefit is that your orange becomes extra juicy.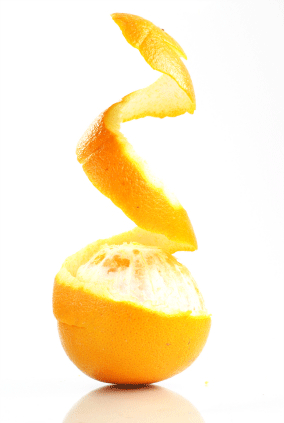 3. The thumb-puncture. This is the most critical move so let's break it down. First, make sure you do actually use your thumb to perform the puncture, not the questionable four-fingers-in-a- scratch-the-blackboard-pose tactic. People who go the four-finger route are doomed to get all kinds of peel scraps flying everywhere. So just don't do it. Now, when you have your game face ready, aim for one of the flabby peel-rolls right near the top or bottom of the orange. No matter what, do not stab right in the middle of the fruit, because that's the thinnest part of the peel and you'll walk away a humiliated, wet, pulpy mess.
4. Long, slow burn. Once you're in, it's time to slowly, majestically carve out a big peel-strip around and around and around the orange. Be careful not to create any peel islands, those little chunks of peel just hanging out in the middle of a freshly peeled area. Also, don't peel too thick a strip (inaccurate and unpredictable) and don't peel too thin a strip (could snap off). Just relax and it will come with practice. If you seem to be losing your momentum or getting stressed out, just put the orange down, shake your hands out, take some deep breaths, and regroup.
5. Show and tell. Did you nail it? Did you finish it off good? If so, congratulations, you're now holding a freshly shorn orange in one hand and a limp n' long, snake-like strip of peel in the other. You have to finish by showing this to at least one person and saying "Hey, check it out!" Maybe hang it right in their face if they don't seem impressed at first. They should come around and at least flash you a terse thumbs up or a sarcastic eyebrow-raise.
Yes, peeling an orange in one shot is a terrific accomplishment. It's one of the best fruit-openings out there, easily trumping the big watermelon split, the pineapple top lop, the pomegranate pry, the coconut crack, or the apple bite.
AWESOME!