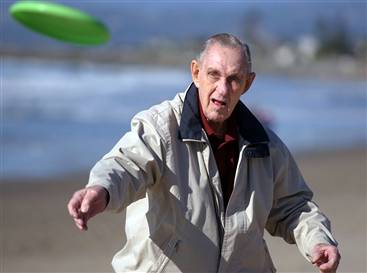 There are a few types of Frisbee tosses out there:
1. The Sideways Roller. Even the best frisbee tossers can't avoid the occasional Sideways Roller. This is when the frisbee hits the ground almost immediately, and then rolls away in a sharp, spinning circle. For some extra points, it's always fun to chase it around and around and then half-heartedly give up and wait to see where it stops.
2. The Boomerang. Oops, too high, way up in the wind there. Careful though, that thing's coming back, straight at your throat.
3. The Fancy Fudge Up. After a few tosses, someone might get cocky and attempt a novelty forehand throw or under-the-leg toss. These usually end up flying way off into the distance and then rolling into the sewer. Don't get too cute out there.
4. The Laser. A classic sharp, shooting toss right at the chest of your partner. They can usually catch it without moving an inch, but might jam a finger or two in the process.
5. The Flying Saucer. And lastly, the highlight of the day, everybody. It's gotta be that Flying Saucer. A nice, airy toss that just seems to pause in mid-air and slowly hover down into your waiting hands, like a spinning plastic angel from heaven.
AWESOME!