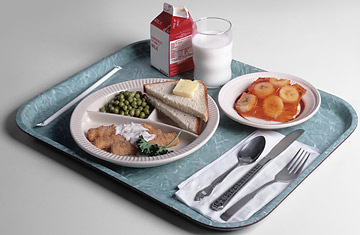 The dreaded Cafeteria Standalone.
Blue plastic tray wobbling in both hands carrying a big rolling glass of iced tea and a heavy ceramic plate loaded with steaming roast beef, wet mashed potatoes, and bland baby carrots, you exit the cafeteria line and glance at the full crowd in front of you.
It's the high school cafeteria, the workplace lunchroom, or the food court at the mall. Everybody is laughing, at you maybe, while you stand and stare out at the kaleidoscopic sea of smiling faces.
As the seconds tick by you feel more and more out of place.
Maybe you quickly glance around the room while pretending to get ketchup. Maybe you walk in a couple different directions so you aren't clogging up the lanes or looking too obvious. Or maybe you just get really anxious and wonder if you're going to have to sit by yourself.
But just as you're beginning to lose hope you eventually you see them.
It's your friends in the distance.
And they're waving.
AWESOME!