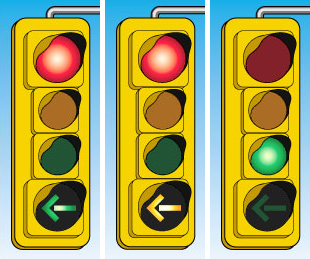 Has long left turn lane got you down?
Are you backed up past where the lane even begins? Is there an 18-wheeler in front of you pulling a massive wraparound turn at the speed of sloth? Did the guy in the intersection hit the brakes when you expected him to gun it, delaying you both for another light? Or did a car in oncoming traffic run a red and keep you stranded awkwardly in no man's land?
Baby, if you're stalled at the amber and are feeling bright red, have we got the cure for you: The Surprise Left Turn Arrow.
Yes, when that neon green arrow suddenly flashes above you, just hammer the gas and get going, because the curtain's up, the audience is cheering, and the stage is calling you on.
AWESOME!