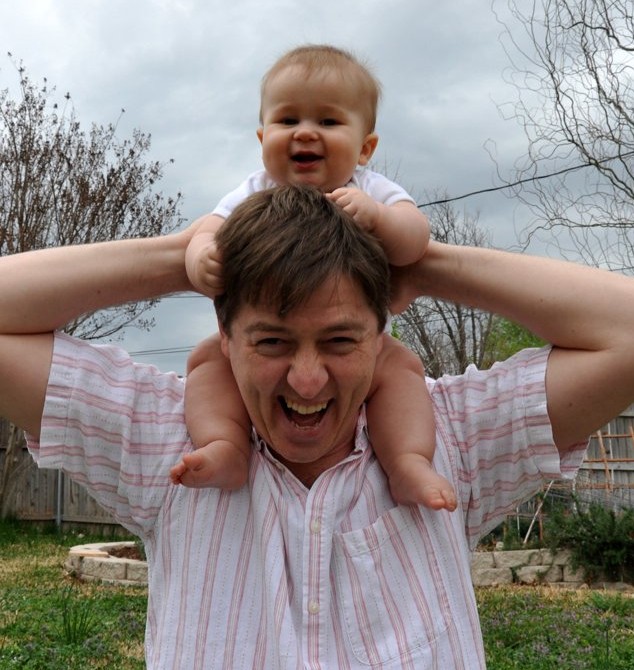 Blast off.
Getting a six-foot liftoff when you're two feet tall shoots you straight into the stratosphere. Suddenly you're riding your own personal human in a bumpy living room safari in the clouds. Your diaper-padded ass bounces safely on sturdy shoulders as you giggle and grab fistfuls of hair and glasses while gazing down at the tiny toy-covered world you thought you knew.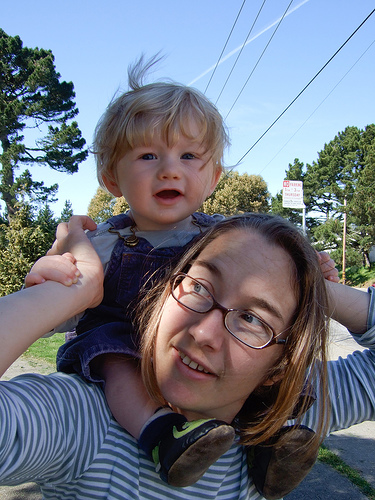 Yes, your baby brain zooms out and gives a sneak peek of the big world you're about to discover: riding wobbly bikes and skinning your knees at distant playgrounds, cruising around after curfew with fresh drivers licenses, and staring out tiny airplane windows at distant crisscrossed patches of your hometown.
Look back on those blurry shoulder rides in those jungle backyards and remember the rushing gushing feeling of going way up, staring way down, opening your eyes, and opening your mind…
AWESOME!
Thanks to the nearly 500 people who came to The Book of Awesome Launch Party last night! Our fists-to-the-sky awesome movement was in full force! So nice of folks to make T-shirts, signs, and share stories with the crowd. Thank you Indigo for hosting!  – Neil
— Blog post —
"The Toronto launch of The Book of Awesome was a rousing success. People were kept waiting behind a velvet rope and there wasn't even the promise of cocaine. Awesome. The book is being translated into German, Korean, Chinese, Cockney rhyming slang and also being dropped by helicopter into the remotest jungles of Papua New Guinea. The author held court with Heather Reisman at the flagship Indigo location in front of an appreciative crowd.
Participants were asked to fill out cards of their own examples of awesome things and in a touching moment, Neil's third grade teacher, warmly remembered as an inspiration to him growing up, joined him on stage." – Chris from Shark Guys