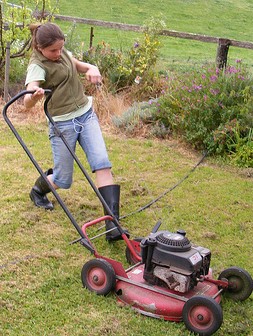 Time for a trim.
Yes, step into those grass-stained workboots, toss on a faded ballcap, and roll the rusty mower out of the wobbly tin shed. You're about to spend an hour mindlessly chopping lawn so stare at those grass-covered wheels, duct-taped wires, and chippy paint patches before getting down to business.
Now, if you're like me then before pulling that cord you sort of get it in your mind that you're in for three or four full-body yanks before that machine starts purring. I don't know about you, but since I'm a limp, wimpy noodle of a man I find pulling that cord about as physically draining as benchpressing a full keg of beer, building a house out of boulders, or dragging an 18-wheeler up a steep hill with a rope.
See,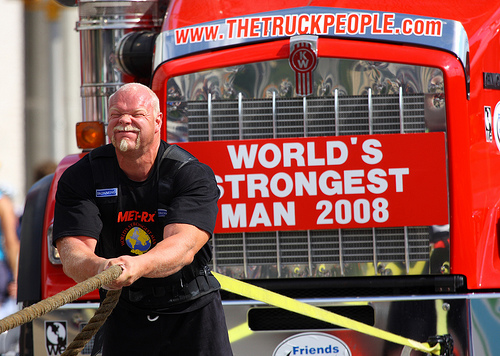 I put my whole body into it and just get some slow sputtering. Wheeze, wheeze, die, you feel me?
But hey, that's what makes it great when us noodles  pull those cords and they start up on the first pull. Now when the motor starts up and the gas fumes float up we suddenly get to feel like the World's Strongest Human.
Yes, pass the black spandex shorts, tattoo a skull on our neck, and toss us some barbells, baby.
We're going in.
AWESOME!
Join us on Facebook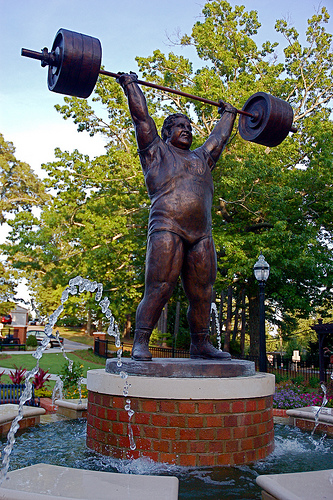 — Email message —
"So I finally bought The Book of Awesome! I'm addicted to books, so for the past while whenever I went to the book store, I kept seeing your book. Annnnnd every time I would pick it up and open to a random page and read it. Automatically I loved it. However I was broke until this past weekend. Its probably one of my favourite books because when I'm feeling down, I just open it up and I feel better. Oh and today I made homemade pizza. It was the best, its one of those things that make me happy because its fresh and you feel proud that you made it. Maybe it will become one of the 1000 awesome things, because it is pretty awesome?" – Tiffany