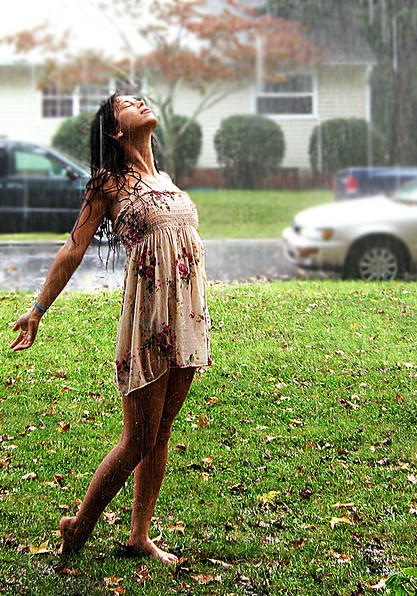 Water, water, everywhere.
Most of our brains and our blood and our bodies are water. Most of our babies and our beagles and our baths are water. Water rinses apples and washes cars. Water steams carrots and cures SARS.* (*Study pending.)
Yes, water cures thirst, shaves legs, and grows plants. Water flushes toilets, washes hair, and ships pants. We cannonball into pools, we float off the docks, we ice down our drinks, and we rinse all our socks.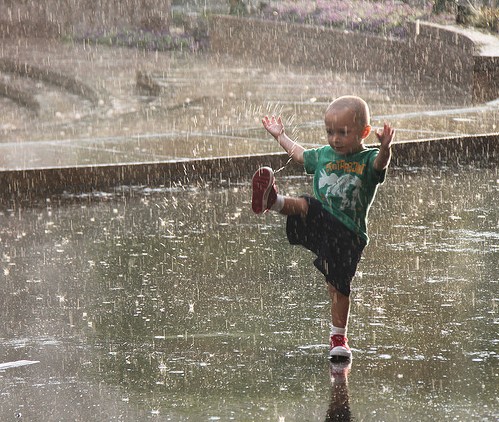 We love water but somehow there's one major moment where we dread Nature's Best Liquid. Yes, I'm talking about rain, people — because you know as well as I do that when the skies split and the clouds crack everyone scowls and scampers for cover.
And that's exactly what makes it great when once in a while you just, you know, don't. That's what makes it so great when it starts pouring on you and you just stop caring altogether.
Jumping in puddles, laughing with friends, chilled to the bone, soaked till the end — yes, when you're getting wet and loving it suddenly soaked shoes, squishy worms, and rain hair mean nothing. You're a gorilla in the rainforest, you're a lion in the monsoon, you're just another animal on Earth soaking and swirling and spinning and twirling in your beautifully wet blissful moment of
AWESOME!