Have you ever had a panzarotti?
Well, if not then let me tell you that panzarottis are magical miniature pepperoni pizzas folded over into a giant doughy envelopes and baked to a golden brown crisp before being slathered with steaming tomato sauce. Sawing into them with a knife and fork gets the melted mozzarella oozing out like lava before swirling into a savory sea of puffy crust, salty pepperoni, and even more sauce that was baked inside to a tangy finish.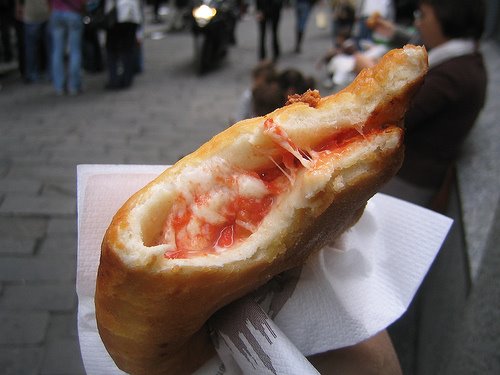 Our high school cafeteria served panzarottis every Tuesday and every Tuesday our high school cafeteria had raging lines out the door and down the hallway with sweaty backwards-cap wearing teens each holding five bucks for the most delicious lunch in our known universe. Lose the Lunchables and toss the tuna sandwiches because on Panzerotti Tuesday we're a salivating room of equals buzzing over life, liberty, and the pursuit of giant, greasy folded-over pizza things.
Yes, it's a beautiful moment when your cafeteria serves the best food they got.
Whether it's Mac and Cheese Monday at the cubicle farm, Taco Thursday at the plastics plant, or Fajita Friday at the old folk's home, it always tastes like fun … it always tastes like excitement … and sure does always taste like
AWESOME!
Check out the full awesome list updated every weekday.