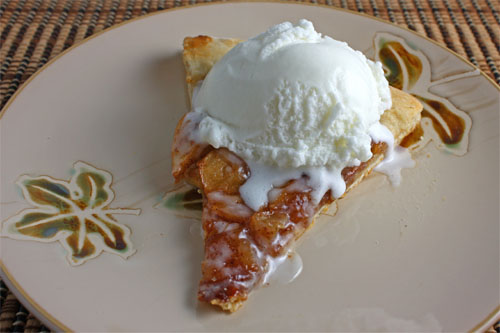 It happened last night.
Leslie and I were walking around a new neighborhood when we strolled past a giant restaurant window with a tall guy in a paper hat standing inside. He was swiping a tiny windshield wiper across a hot black circle and cooking up thin little crepes. Maybe I'm a bit simple but for me this was like watching something from Charlie and the Chocolate Factory. My brain flashbacked to watching little sugar donuts float down Hot Oil Rapids at the supermarket when I was a kid. I also remember my poor kid brother Augustus falling into a chocolate river.
Anyway, we ran inside and ordered a crepe up for snacking. Paper Hat Man stuffed it with strawberries, poured chocolate sauce over it, and asked us the big question: "Would you like a scoop of ice cream on top?" Now, I don't know where you come from, but where I'm at there's a local bylaw stipulating that anybody ordering a giant crepe covered in chocolate sauce must say yes to the ice cream. You don't want to get tossed in the slammer for screwing up dessert.
As you can imagine the creamy sauce-smeared crepe was deliciouser than delicious. It got me thinking that adding a scoop of ice cream — or a la moding anything — just makes most foods much better:
1. Pie. The classic. Apple pie without ice cream is just a hot and sticky mess. You need that ice cream to balance the flavors and mess your teeth up with hot and cold sensitivity. Word to your molars.
2. A glass of Coke. Turn that boring cup of fizz into an ice cream sundae with just one scoop. Let the vanilla scoop melt and swirl into bubbly creamy sips. If you've enjoyed a Coke Float before then you've lived a good life, my friend.
3. Waffles. Okay, now we're back in the Crepe Family. (Note: other family members include pancakes and funnel cakes.) When you eat waffles a la mode make sure to let the ice cream soak into all those little squares. When you manage to add ice cream to breakfast you are officially the Champion of Breakfast.
4. Something weird that none of us have tried before but is probably delicious. Do you add ice cream to brownies, spaghetti, or maybe pineapple pizza? Hey, we're not judging. No, we just want to learn from you. Because all we know is the  world of a la moding has no limits and sometimes off-the-wall ideas go a long way.
5. Birthday cake. There's something indescribably delicious about the texture of warm-n-spongy-icing-smeared cake smushed together with freezing cold melty vanilla ice cream in your mouth. This is truly the Dream Team of tastes.
Yes, adding a scoop of ice cream to food makes it that much better.  So listen up boys and listen up girls. Let's all hold hands and just a la mode the world.
AWESOME!