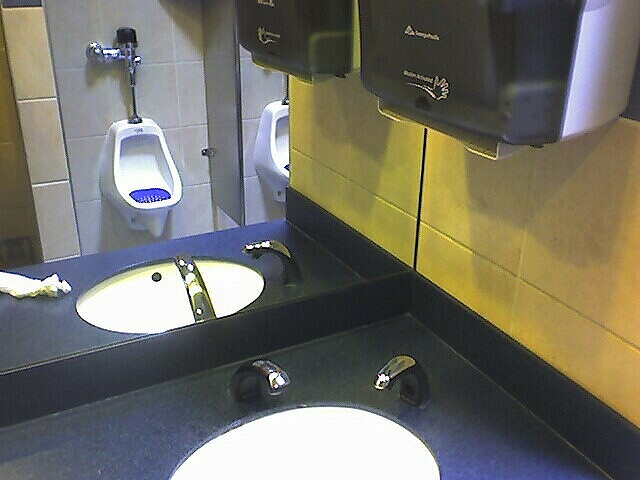 It's known as the Paper Towel Pile.
Germophobes, you know what I'm talking about. It's that filthy stash of crumpled wet paper towels sitting in a pathetic heap behind public bathroom doors. Bacteria conscious citizens aren't above using paper towels like gloves to avoid touching the pee-stained bathroom door handle. With no garbage can nearby the towels hit the floor where they serve as dark reminders of our big preference for hands-free everything.
Bathroom designers, listen up: Most people don't like touching rusty urinal flushes, crusty soap pumps, and bacteria-covered sink faucets. Nope, that's why the Holy Grail is the hands-free-everything bathroom, ideally featuring all these family favorites:
1. Angled bathroom entrances. Top marks are awarded for bathrooms that don't even have a door. Paper Towel Piles and pee-hands are non-existent because a simple Hallway 180 keeps bathrooms private and entrances hands-free.
2. Self-flushing toilets. I remember when I first met a urinal that flushed on its own. "Clever little fella," I thought to myself, as the auto-flush waterfalled down and got ready for its next customer. Ladies, it may surprise you, but urinals that require manual flushing don't always get flushed. Anyone's who waited with a lineup of sweaty guys during the basketball game halftime will agree that self-flushing urinals are the dawn of a new day. And actual self-flushing sit-down toilets are almost beyond mind-blowing. They're a sign we're becoming The Jetsons.
3. Hands-free faucets. Gold standard here is a highly-sensitive faucet that delivers warm water in high volume. Unfortunately, it's more common finding faucets that require non-stop herky-jerky hand spasms to keep them going, after which they deliver thin, wildy-shooting sprays of ice-cold water. Hey, we'll take what we can get.
4. Automatic soap dispensers. If all the automatic bathroom machines were sitting down for family dinner then the soap dispenser would definitely be the crazy uncle. He's unpredictable, shoots his mouth all over the place, and frankly, just cannot be trusted. Pink sink smears and foam explosions on the mirror show his wild side. But he's part of the family and we love him for who he is.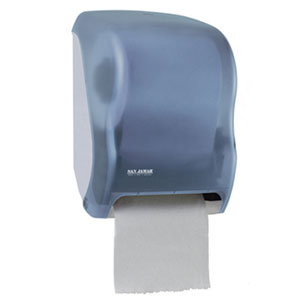 5. Automatic paper towel machines. Swipe once for some paper towel, swipe twice for more, or stick your hands in the Insanely Loud Hand Dryer for some quick-style cleaning.
Yes, ladies and gentlemen, boys and girls, children of all ages, it's time we delivered a clean cracking high five to all the hands-free-everything bathrooms of the world. After all, when we get back to hands-free-everything we're getting back to our roots. Squatting off the side of a cliff, our ancestors probably had a no fuss, no mess, no problems attitude to getting the job done. Now here we are in the future and it's fun finding occasional mall, airport, or restaurant bathrooms who pay tribute to the past with their hands-free-everything ways.
The only thing left to invent is auto-unzipping and cyber wiping.
AWESOME!