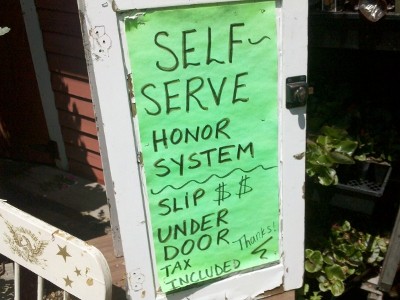 I grew up riding shotgun a lot.
My dad was a teacher so summers were spent fiddling with the radio dial as we dropped my mom off to work, took my sister to swimming lessons, and waited in bank lineups.
Since bank machines weren't invented yet those lineups were long and slow ordeals — filling out wispy-thin slips of paper, winding through velvet ropes, inch by inch, minute by minute. That might be why I could probably give a police sketch artist a vivid description of what a bank inside looks like – down to the sharp straight-cornered counters, giant unhinged vault door behind the tellers with deadbolts the side of shaving cream cans, and paper box of foil-wrapped mint chocolates on the counter with a change box for a veteran's donation.
I don't remember wondering how the veterans got into the mint chocolate business but I was curious why their little chocolates sat out in the open where anybody could grab them. I mean, you just took some chocolate and dropped a quarter in the paper box and that was that.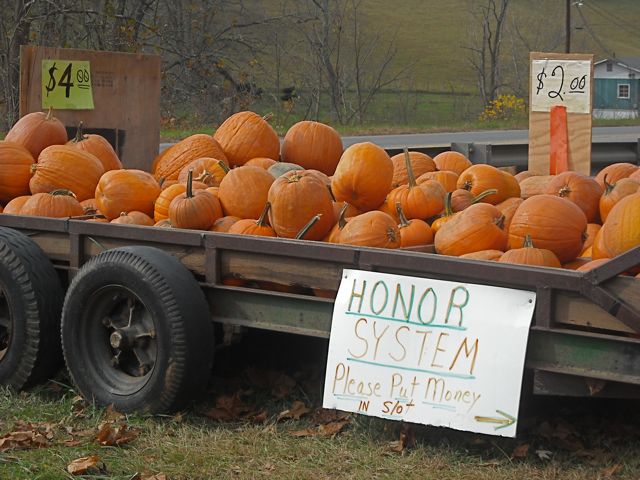 Little did I realize then that The Honor System really is great for at least three big reasons:
1. Pennies from heaven. Bars on windows, vending machine glass, and locked store shelves cost cash. Just imagine a world where we didn't need systems in place to check for trust – no jail bars on pharmacy windows, security cameras outside corner stores, or endless steams of receipt tape. The Honor System skips the locks in favor of trust … and we all save, including our pal The Environment.
2. Hit the fast lane. Since The Honor System relies on trust on both sides it moves us a lot faster than our clogged-up cattle pen security checks, body scans, and baggage inspections.
3. Embracing our humanity. Sure, there are some bad eggs out there, but most people won't snag a big bag of cashews from the bulk bin without paying. So The Honor System lets us display our honor and lets our moral compasses guide us without all the red and green lights.
So let's hear it today for The Honor System. Let's hear it for "Pay what you can" night at the Comedy Club, $2 Friday Jeans Day buckets at the office, wooden shelves of peaches on the side of the country road…. and little boxes of mint chocolates everywhere.
Hey, no offense Buddy, Metric, or Solar.
But The Honor System's got you beat.
AWESOME!