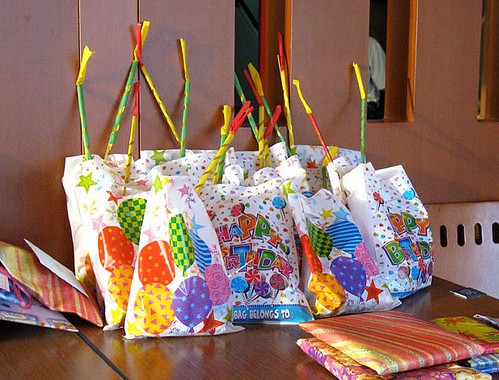 What's a birthday without some loot?
Let's get this party finished right:
Level 1: The Factory Order. Here's where mom orders the Barbie, Hot Wheels, or Sesame Street themed birthday kit and it comes with pointy hats, paper plates, and loot bags for all. Now, these bags are usually sealed shut so you must tear them open with your teeth to pull out the pack of stickers, temporary tattoos, and crayons. The Factory Order is a Level 1 loot bag because it lacks love and longevity.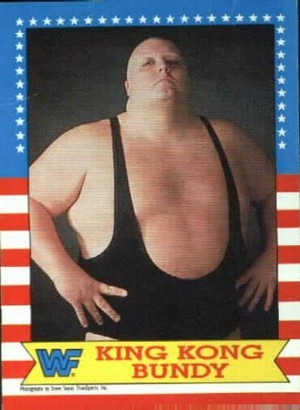 Level 2: The Dollar Store Special. These are tailor made jumbles mixed and matched from that back wall of the dollar store. Plastic hypnotic-eye glasses, rubber bouncy balls, and sparkly pencils are tossed with handfuls of Halloween candy. Now, The Dollar Store Special does get some bonus points for gender tailoring. Girls might score pink headbands or nail polish while boys collect a Whoopee cushion or wrestling action card featuring King Kong Bundy.
Level 3: Homemade Masterpieces. Top of the heap. Homemade masterpieces are beautifully colored paper bags with every kid's name on them. They have little plastic baggies of homemade oatmeal chocolate chip cookies and maybe a scribbled-up bookmark made by the birthday boy's sister. Masterpieces might have exciting projects like cut-out Styrofoam airplanes or do-it-yourself kid's crafts — like popsicle sticks, glue, and a picture showing how to make a snowflake. Homemade masterpieces can also be tailored to each kid so nerds can score 3D glasses and blurry comic books while little princesses harness bounties of colorful hair elastics.
Loot bags add big cheers to the end of those wild birthday parties on Saturday afternoon fun. They make the party continue long after kids go home. But, here's today's question: Why stop there? Yes, there's always room for more loot bags in our lives, even as we get older. I say next time you have friends over for a backyard barbecue do everyone a favor and stuff a crumpled paper bag of brownies in their hands as they're heading out the door.
AWESOME!