The next book in the
A

W

E

S

O

M

E

series!
#1 International bestseller for over 20 weeks!
Translated into Dutch, Korean, German, French, and Portuguese!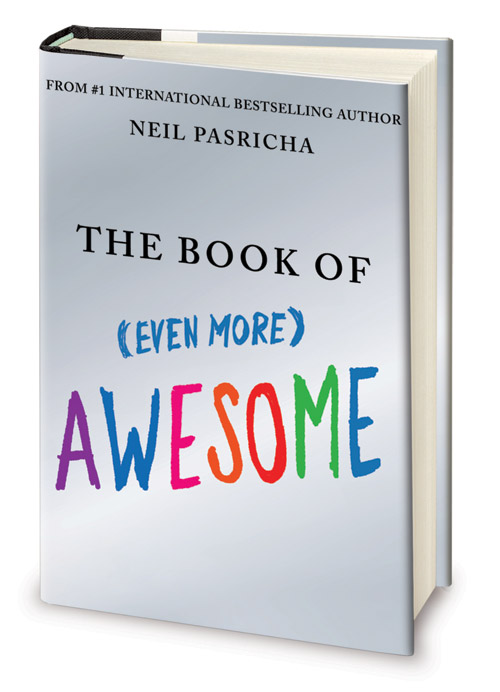 Click here for a high-res book cover.
The Book of (Even More) Awesome
By Neil Pasricha from AEB/Putnam, a division of Penguin Publishing.
For US media inquiries please contact Jessica Roth, Assistant Director of Publicity at Gallery Books, at 212.698.4665 or Jessica.Roth[at]simonandschuster.com
For Canada media inquiries please contact Rita Silva, Associate Director of Publicity at Simon & Schuster Canada, at 647.427.6992 or rita.silva[at]simonandschuster.ca
REVIEWS
"This may be the greatest piece of literature on awesome the world has ever seen. If Ernest Hemingway were alive today he'd say, 'I'm one hundred and twelve years old. Someone please kill me.' But I also think he'd like this book." —Justin Halpern, author of the #1 New York Times bestseller Sh*t My Dad Says
"By showing how daily life is packed with thousands of small, bright moments, Neil Pasricha makes ordinary days light up with awesomeness." – Gretchen Rubin, author of the #1 New York Times bestseller The Happiness Project
"This entertaining follow-up collection offers more reflections on life's little pleasures such as "Getting the keys to your first apartment" or "Kicking those clumps of frozen slush off the back of your car's mud flaps." Pasricha finds fun in frustrations, going from grit to wit." – Publisher's Weekly
"Pasricha does not depart from his original, down-to-earth style in this next collection; none of what he shares is philosophical or heady. Similarly, his style is not a pontification on a single universal truth on how to live a more positive life, regardless of one's personal circumstances. It's absent of prescriptions that assume only changing the way we think will result in better outcomes. Ranging from laugh-out-loud funny to poignant (but not fluffy), Pasricha's compilation feels close to universally applicable. Like realizing you still remember your childhood friend's phone number or when your windshield wipers match the beat of the song you're listening to. Pasricha doesn't mandate a way to live well. In many simple ways, he just reminds us that we already do." – The Huffington Post
"What Jerry Seinfeld was to stand up, Neil Pasricha is to blogging." – The Globe and Mail
"What comes after awesome? There's only one thing that can surpass such an idea . . . and that idea is even more awesome. Read this book to go above and beyond your most awesome day." —Chris Guillebeau, author of The Art of Non-Conformity
"Neil Pasricha is the guru of small joys." – The Toronto Star
ABOUT THE BOOK
From the author of the #1 international bestseller The Book of Awesome and the award-winning, multimillion-hit website 1000awesomethings.com comes EVEN MORE of the little things that make us smile every day! Neil Pasricha is back with a collection of hundreds more awesome things from the website, as well as never-before-seen extraordinary moments that deserve celebration like letting go of the gas pump perfectly so you end on a round number, when a baby falls asleep on you, pulling a weed and getting all the roots with it, when your windshield wipers match the beat of the song you're listening to, the smooth feeling on your teeth when you get your braces off, driving from a rough road onto a smooth one, when the person you're meeting is even later than you are, and that guy who helps you parallel park.
The Book of (Even More) Awesome is 400 pages of awesome things and you can read the first 20 pages of the book here. Plus, there's even space for you to write your very own awesome things in the back.
Couldn't we all use EVEN MORE AWESOME!?
[youtube=http://www.youtube.com/watch?v=SXGKfRYRho4&feature=player_embedded]