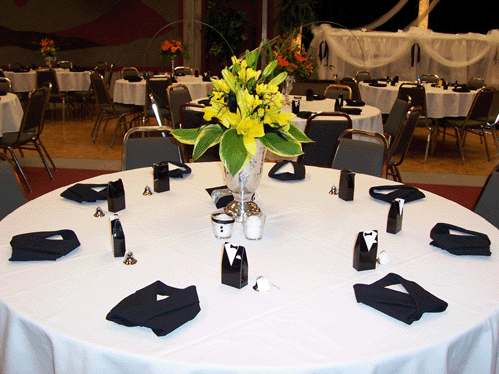 Weddings can go one of two ways.
Either you're tight like twins with the bride or groom — a sibling maybe, college roommate, or grandmother. You're on The Inside, recommending photographers, hosting showers, renting tuxes, giving toasts. For you, the wedding is a great day, a proud moment, a chance to recognize and celebrate someone you love dearly.
Or…you're on The Outside. You're the groom's doctor, the bride's new boss, or worst of all, the cousin-date. You're only there because it would have been rude not to invite you, so you RSVP past the deadline, squeeze into dress clothes from prom, and drink before the reception. You sit at the back table with a lot of people you don't know and introduce yourself to at least one half of the newly married couple late at night on the dance floor during Mambo #5. "You look really great," you scream over Lou Bega's thumping beats, a nearly full Corona swinging wildly in your hand. "I'm Cory, by the way. I work with Linda."
If you're on The Inside, the entire wedding is great for you. You tear up during speeches, take two hundred pictures, and dance until the lights come up, your hair sweat-glued to your forehead, big toes popping through fresh holes in your nylons at two in the morning.
If you're on The Outside, you're scoping out bridesmaids, eating other people's wedding favor chocolates, and ordering off the menu at the bar.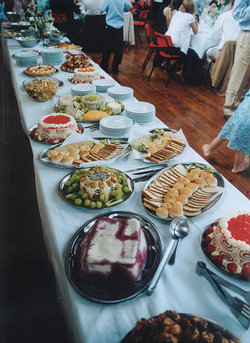 When you're on The Outside there is no greater wedding high than being the first table to get called up to the dinner buffet. Suddenly you're on The Inside, honorary winner of the prestigious Gets To Eat Before Everyone Else award, dipping your ladle into Alfredo sauce before it films over, toothpicking meatballs before they congeal into sugary meat pyramids, surgically removing the perfect first triangle of cheesecake before the serving dish gets all gummed up with clumpy graham cracker paste and marischino cherry glue.
Yes, you walk back to your table a newly crowned king, sitting down at your chair-facing-the-bathroom-at-Table-#31 throne, lord and ruler of your much-too-loaded plate buried in rolled up salami cold cuts, potato salad, and gherkins.
AWESOME!