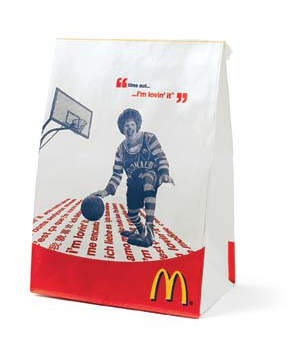 Hey, eating in the car is tough.
Weaving that big, bulky clunk of metal through highway traffic, off off-ramps, over speed bumps, and into parallel parking spots is no small feat. And you know what makes it even tougher? Having a hot, crumpled bag of steamy Drive-Thru riding shotgun, that's what.
Yes, resisting the temptation is tough, but then again unwrapping a sloppy, mustard-dripping burger over the steering wheel probably isn't good for anybody. So there's really only one option to satisfy your urges to both eat and live.
That's right: dip your hand into the crinkly paper well and squeeze it between the cool packs of ketchup, big wad of napkins, and waxy-wrapped burgers, until you find that little treasure trove of spilled fries at the bottom of the bag. It's a bit like panning for gold and is known as the Pre-Lunch Munch in some circles.
Also, we can't forget the Classic Afterburn maneuver. Yes, extra fries at the bottom of the bag star again, but this time they're the cold, limp n' salty chasers that follow your last slurp of bland, watered-down cola. Yes, we both know you've got to finish the meal off with a flavor-saving punch and the extra fries at the bottom of the bag will do the job just fine.
So dip that hand in deep, give it a swirl, and chomp on a nice little bite of
AWESOME!