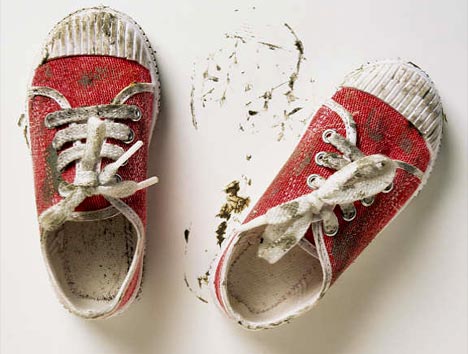 Treat your feet.
Come on, just look at them laying there in front of you as you relax in the backseat of the car. Sure, you're just loving it back there, your shaggy locks whipping with the wind, your hand sailing carelessly out the window, and your head lightly bopping to the faint beat from the Buddy Holly tune on the radio.
But your feet, they are not fine, they are not carefree, and they ain't bopping to no beat. No, they're slippery, salty, and sweaty, wrapped tightly in a hot pocket of suffocating socks and shoes. Yes, buried deep under dense layers of cotton, wool, and leather, your aching soles are itching for some sweet release and a breath of fresh air.
So just let them out, friend.
Yes, when the car slips onto the sideroads, the bus hits the interstate, or the plane tips up for liftoff, it's time to tug those laces and pull your paws right out of the Sweatcave.
Sock removal is optional, but what's not optional is rubbing your feet against that little bar thing that's hanging down from the seat in front of you on the bus or airplane to give your stiff, aching soles The Massage Of Their Life.
How good does that feel?
So next time, you're goin' to the grocer, goin' faster than a roller coaster, remember that breaks like this will, rarely come your way. A-hey, a-hey-hey.
'Cause everyday, life seems a little faster, things slip up, plans turn into disaster, so ditch your kicks and find a little escape. A-hey, a-hey-hey.
AWESOME!
[youtube=http://www.youtube.com/watch?v=GMezwtB1oCU]