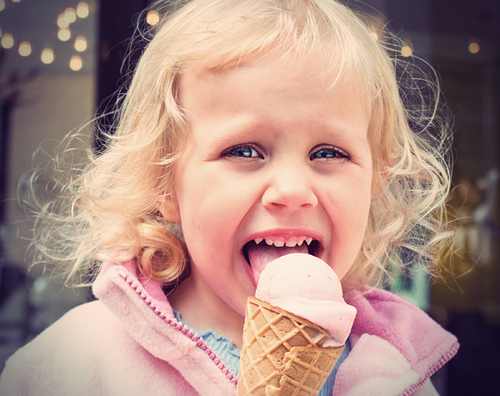 Let's get tasty.
Save yourself some work, save yourself some time, and let's gobble up the dishes our food's packed up in:
• Ice cream cones. Bubble gum ice cream from Baskin Robbins was a staple of my childhood and I'd always get it in a cup to save the chalky pink frozen gum for the end. One day I switched up my game and went wild with a sugar cone instead… and after that there was no looking back. That cone is like three meals in one: ice-cream only appetizer, cream-n-crunch entrée, and a final mini-goblet of bubbly melted dessert. Check please!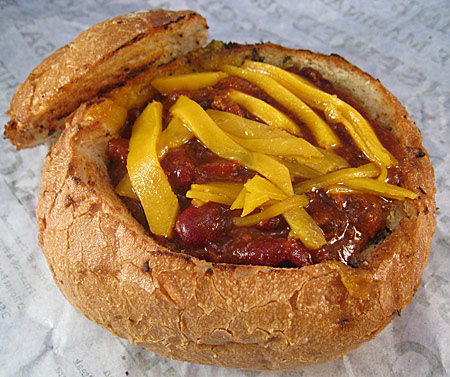 • Chili bread bowls. Once in a while a local diner will try plain soup in bread bowls but the wet mess that results from a hot ladle of chicken noodle poured into a stale bun is beyond awful. No, let's hold hands here today and stick with chili and chowder.
• Frankensteins. Sometimes you go mad scientist and whip up an edible monster. Lightning crashes out the window of your dark kitchen as you cackle and unveil scrambled eggs and bacon wrapped in a pancake or a cold leftover hamburger squirted with ketchup and wrapped in a giant lettuce leaf. Not bad, not bad.
• Edible beer bottles. Okay, maybe these haven't been invented yet but I think it's only a matter of time. Sip, sip, crunch, crunch, stay on the couch. Think about it, Doritos.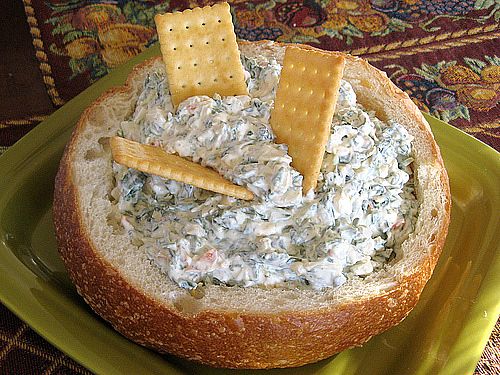 • That creamy spinach dip in the big brown bread. This is a staple of any snooty party and you'll score massive yuppie points for bringing it with some stinky cheese or dark salamis. And don't worry about the nutritional content here because those thin ribbons of spinach stirred into that mayo soup totally take away the guilt, too.
• Almosts. These are foods you don't always eat from a dish but also don't really require any dishes. They're hot-dogs and hamburgers and wraps and burritos. They're not quite the same as edible dishes … but almost.
• Taco salad in that crazy giant taco bowl. Whoever invented this magically delicious dish deserves some props for making a fat exploded taco sound healthy. Come on, this is just a salad, people. Get some greasy enchiladas and a bowl of deep-fried ice cream to finish off your meal.
When you're eating off an edible dish the food suddenly becomes  more fun and there are drippy challenges to keep you entertained. Plus, after you're done you can forget soaping up, scrubbing down, and setting your dishwasher to off-peak hours. Just remember: when you're eating messy food off edible dishes … you're digesting love.
AWESOME!
I'll be chatting at the Word on the Street Festival in Toronto this Sunday. Hope to see some of you there.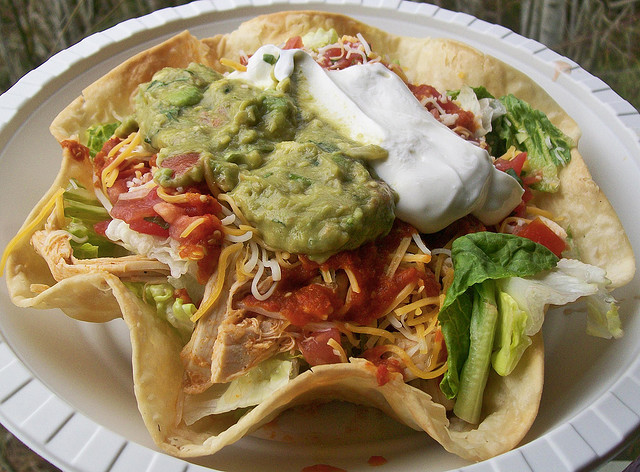 Photos from: here, here, here, here, and here