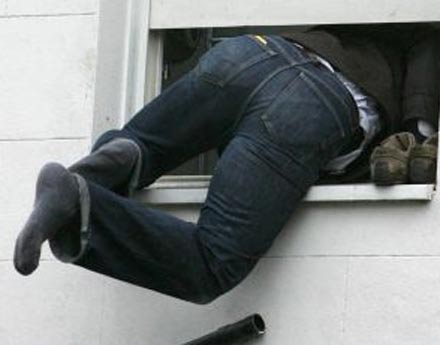 We've all been there.
Whether you left the keys in your car, let a dorm door slam behind you, or just came home late without a key, we feel your pain, we feel your pain, we feel your pain.
Now after the panic drains and you stop going insane it's time to get your brain together by slipping off your sneakers, pulling a ski mask over your face, and grabbing a giant empty sack with a dollar sign stamped across it. Yes, you're a cat burglar and it's time to bust into your own joint.
Unlocked windows, jimmied doorknobs, and bent wire hangers all help get the job done in style. Swing pet doors could also come in handy. Also! Be sure to try and fail to wedge a Mastercard in the doorjam for a couple minutes while saying "I saw this in a movie once", just for the full experience.
Breaking into your own place after realizing you locked yourself out gives you a smirking sense of jewel thieving satisfaction. You get the high of being a bank robber without the guilt of walking around with a coat full of diamonds.
Let's just call it a win win.
Let's just call it
AWESOME!
Wow! The Huffington  Post and Publishers Weekly review The Book of (Even More) Awesome!
— Email message —
"While walking along the cliff at the end of the world… alright, the Coastal Path of the most southern point in Cornwall, UK… I stumbled across this. It makes me smile every time I see it." – June