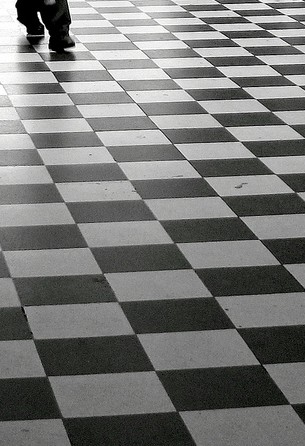 Brain, you´re funny.
Who knows what caveman electrons are firing you up on a daily basis? Something must have been programmed in a while back to make it so enjoyable to pop bubble wrap, hear frozen puddles crack, or stab those little buttons on top of the soft drink cup lid. Click clack, neutrons snap, brain cells buzz and smiles attack whenever those feel-good jabs start feel-good jabbing.
When your footsteps line up perfectly with the black and white floor tiles it´s like the stars are aligning for a quick little minute of fun. Perfectly avoiding all sidewalk cracks, squeezing through a door as it´s shutting without touching it, and walking onto escalators without breaking your stride all come close, but not much feels as good as Checkerboard Stepping all the way through that snobby lobby.
Let the front desk staff all stare in awe, drop their jaws, and burst into applause.
You just nailed it, my friend.
Right when it counted most.
AWESOME!