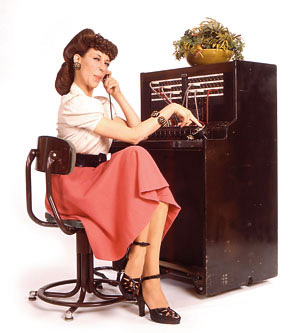 My office is open concept.
We've got short walls between cubes so we can all hear each other's conversations. Yes, everybody knows when grandpa's in the hospital, dinner needs sour cream, or junior wet his pants at school.
It can be a little distracting so some folks stuff their ears with headphones, others book rooms for phone calls, and the rest of us, we're just working over here and listening in.
When you hear your office pals chatting all day you start noticing some voices rise higher than others. Sure, there's tense phone calls home once in a while, but generally the biggest culprit of Telephone Anger is getting locked in a fierce battle with a voice-automated help desk. Yes, frustration fills the air anytime anyone rings up an airline, cable company, or government.
That's when you overhear the painful ten-minute experience of Office Joe or Jane trying to talk to a computer. There is the extremely long pause before the stern "Option Seven, please" and "NO. SEV-EN." There's the frustrated hanging up and calling again. And there's the exasperated attempts to exit the system completely. "Main menu." "Request agent." "Main menu, main menu, main menu."
That's why it's great when a human answers the phone.
See, we're not always great talkers, me and you. We mix up words, we have weird questions, and we don't always know what we need. Option 4 might not rebook our flight and Option 7 can't fix the mistake on our bill. We know we need a human to get things moving and we just want to find one to help us out.
Today we give high gives and big cheers to companies that ditch electronic prisons and just send us straight to someone who helps us keep moving.
AWESOME!