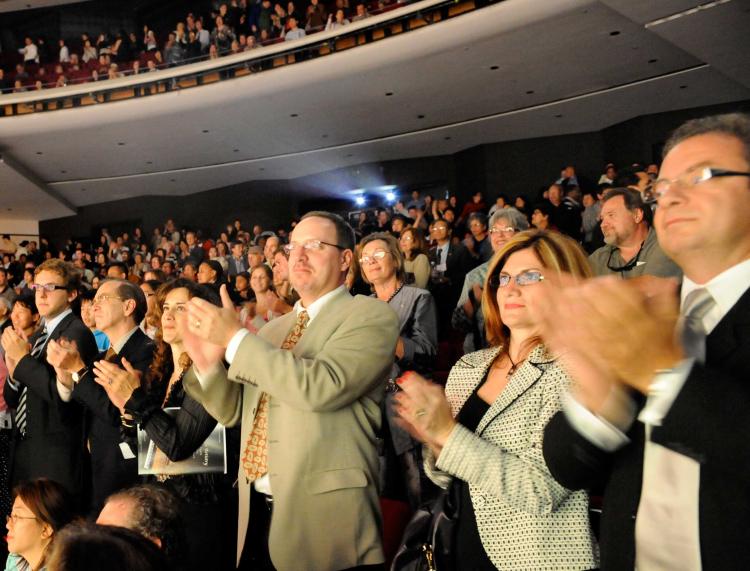 Standing is big.
After all, we're the audience here — we came, we paid, we get to sit down. The deal is we put our feet up, spill popcorn everywhere, and whisper to our friends while you prance about trying to entertain us. Dance your little dance, speech your little speech, play your little play, because we came, we paid, and we get to have our way.
A deal's a deal.
Oh sure, when everything's over we're going to stand up and walk out of here anyway, but our end of the bargain is so scrimpy that standing up thirty seconds earlier is a huge deal. It's a special sign that this audiences cares, they really care, and it's not something that happens every day.
Now that one guy who jumps out of their seat before everyone else to get the standing ovation going is pretty gutsy. Blocking views to become the focus point leaves them temporarily naked and alone. Yes, there's a chance everybody else at the 3D cartoon, library reading, or local debate may just shove past them as they wipe hot tears off their bright red cheeks.
It's a risky move.
But that's what makes it so great when that guy gets the whole crowd roaring together. Girl in the hat starts clapping, guy in the jeans starts slapping, then you feel a little rustle as the row behind you stands up … and now it's on. The theater is rumbling, the music is blaring, and everything's crashing into
AWESOME!
Thanks, Chapters Brampton! You know a bookstore is supporting you when…