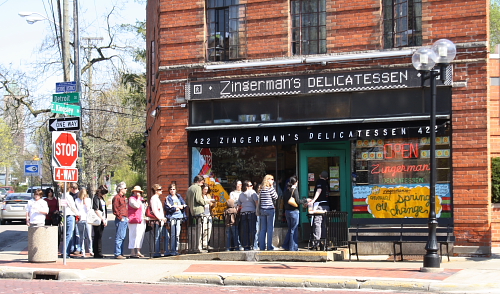 Have you ever waited in a really long line?
I'm not talking five minutes getting to the bathroom at half-time, ten minutes sock-slipping in airport security, or even fifteen minutes outside the movies opening night.
I'm talking about those forever-long lines that hit you like a hammer. I'm talking about brand new rides at amusement parks, driver's license renewals before the weekend, and those ones winding around sketchy warehouses before the concert doors open.
If you're stuck in a really long line you probably do what I do and chat with friends while sending one hundred text messages. But at some point you get bored. Batteries die, conversations dry, and you're twiddling your thumbs when the three-step process to making Lineup Friends suddenly happens: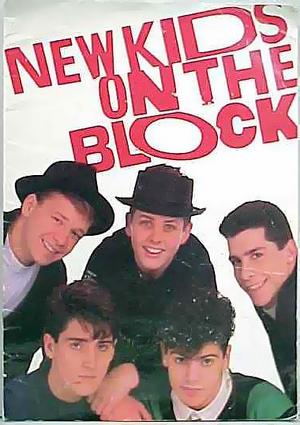 Step 1: We can have lots of fun… by complaining together! Somebody moans about the wait and a stranger chimes in. "Seriously, is this line even moving?", "Yeah, I know, it's like, didn't they plan for this?" Bam! — suddenly you're in this together! How dare they make us wait? Now we're a team against the invisible amusement park titans. Lineup Acquaintances are made.
Step 2: There's so much we can do. Chances are good that your new Lineup Acquaintance and you have lots in common. Are you waiting outside a punk show? Time to talk about your fresh nose piercings. Are you standing with crying toddlers at Space Mountain? Discuss how to shut those yappers up. Suddenly the conversation is rolling…
Step 3: It's just you and me. Step 3 involves talking with your new friend all the way to the front of the line. It's important to switch topics repeatedly and keep the friendship bubbling.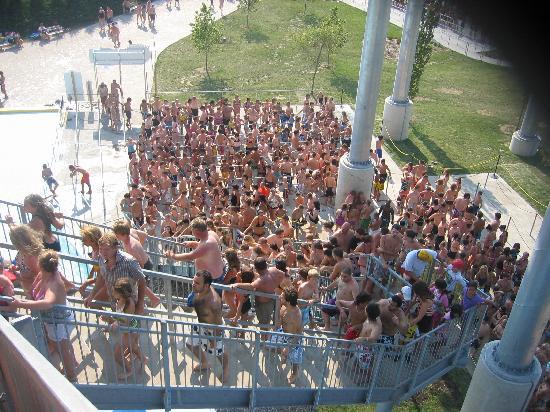 Step 4: I can give you more. Swapping contact details seals the friendship. Sure, it's a bit risky asking your Lineup Friend for their digits — but emailing them a photo you took or sending them that recommendation you were talking about is all fair game.
Yes, we all live in our own worlds so it's great busting out of smeary dreary worlds into new friendship territory. Lineup friends make the time pass, keep the jokes coming, and brighten our days with new connections.
Lineup friend, don't you know that the time has arrived?
AWESOME!
Wow, thank you! The Book of Awesome has now been on the bestseller list for 88 weeks! Below are some foreign covers from around the world… see if you can guess the countries without checking.