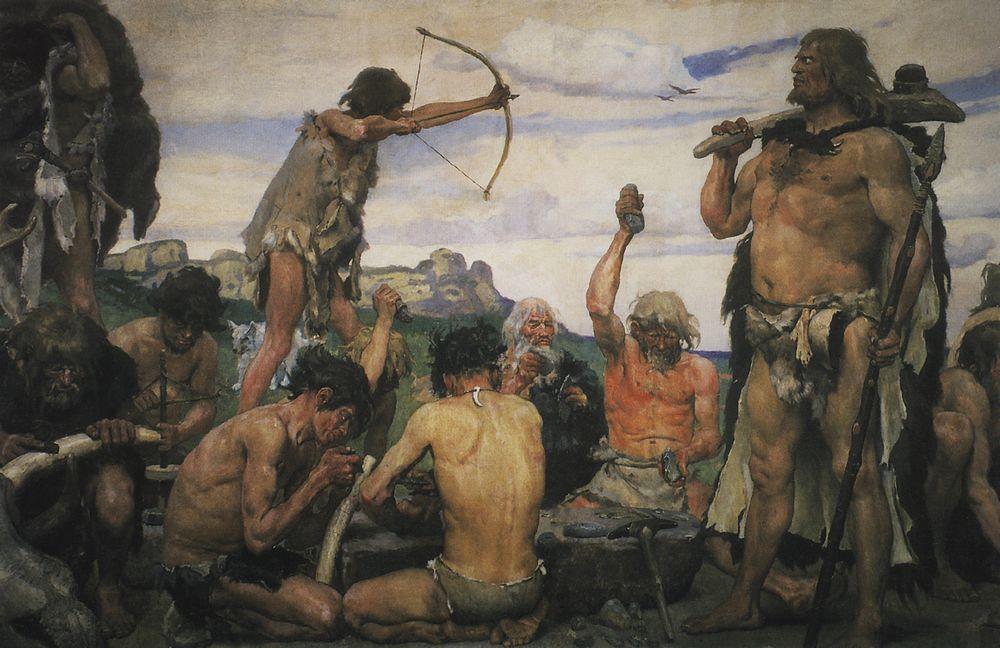 Props to the past.
The Stone Age is the term describing the giant time period from 600,000 years ago to 8000 years ago where our earliest ancestors first made tools from stone. Unless you happen to be an immortal wizard, I'm guessing you weren't around back then. Yeah, me neither. But we sure owe a lot to our cave brothers and and sisters for the stuff they figured out to help us along our way. Seriously, 98% of our time on Earth has been living in The Stone Age, so it's time to look back and give two opposable thumbs up to our makers.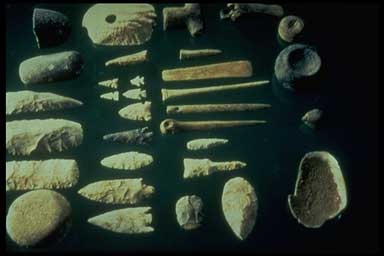 Now, the first stone tools ever built are either the core type, formed by chipping stone to form a cutting edge, or the flake type, fashioned from fragments struck off a stone. Hand axes made their first appearance here for our hunter-gatherer grandparents.
After this there was a technology boom. Think of it like the dot-com era of the 1990s, only this was about 50,000 – 100,000 years ago and included the invention of Mousterian tools — instruments such as sturdy points and bone needles and thimbles to help sew furs and skins together for body coverings. Yes, blankets were born. Also, we began painting back here, decorating dead bodies with colors before burying our loved ones. Note that this was the start of the cosmetics industry with beads, necklaces, and ochre, but its peak wasn't reached until sparkly blue eye shadow much later.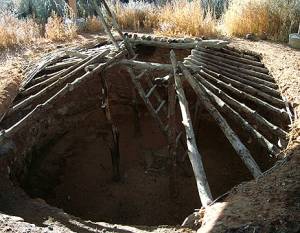 From about 50,000 years ago onwards we really hit our Stone Age stride. We started building pit houses, which are arguably our first homemade shelters. So camping suddenly became more of a nice-to-do instead of a have-to-do. Also, we started group hunting and fishing with new tools such as knives, spears, and harpoons. And in addition to stone, we started using bone and ivory to make artwork such as Venus figures.
Basically, The Stone Age is a really, really long time that happened a really, really long time ago. But without it, almost nothing we see, do, and use in our lives today would be possible. When we're driving around in fast cars staring at stars, just remember where it all started — carving stones, shaping rocks, and charging our way forward into science and the arts.
Yes, from ochre to Play-Doh, from cave paintings to computer screens, we've gone from berries to jam and from running feet to submarines. From pit houses to apartments, from stone spears to pocket knives, our latest inventions keep us moving forward… and keep changing all of our lives.
AWESOME!
Pre-order The Book of Even More Awesome and receive free homemade awesome packs in the mail from my mom and sister.
— Email message —
"Here's what happened to me tonight: I was speeding through the countdown and happened upon #519. Then I flipped on the television and found The Truman Show, which was a favorite of mine. I was watching and realized I never really watched the whole thing through, which I recall was #776. Midway through the movie, I read #464. The Truman Show was filmed in Seaside, Florida, which is our family's favorite vacationing spot. So how about that? 3 awesome things in one. Truly Awesome." – Mitch